San Fermo – IGT Rosso Veneto
Organoleptic description: dry, full-bodied and intense red wine, mellowed from the period of ageing in wood butts
Colour: intense ruby red
Bouquet: intense, fine, fragrant, delicately ethereal, with the scents of the selected wooden barrels
Taste: dry, savoury, full-bodied and velvety
Alcohol: vol. 16.0%
Vores kommentar
San Fermo koster 15 Euro. Den er produceret efter principper der minder meget om Amarone. Absolut en vin der er værd at anbefale – her får du virkelig meget for pengene. Der produceres kun 3.000 flasker af denne, hvor meget af den går til eksport til Californien.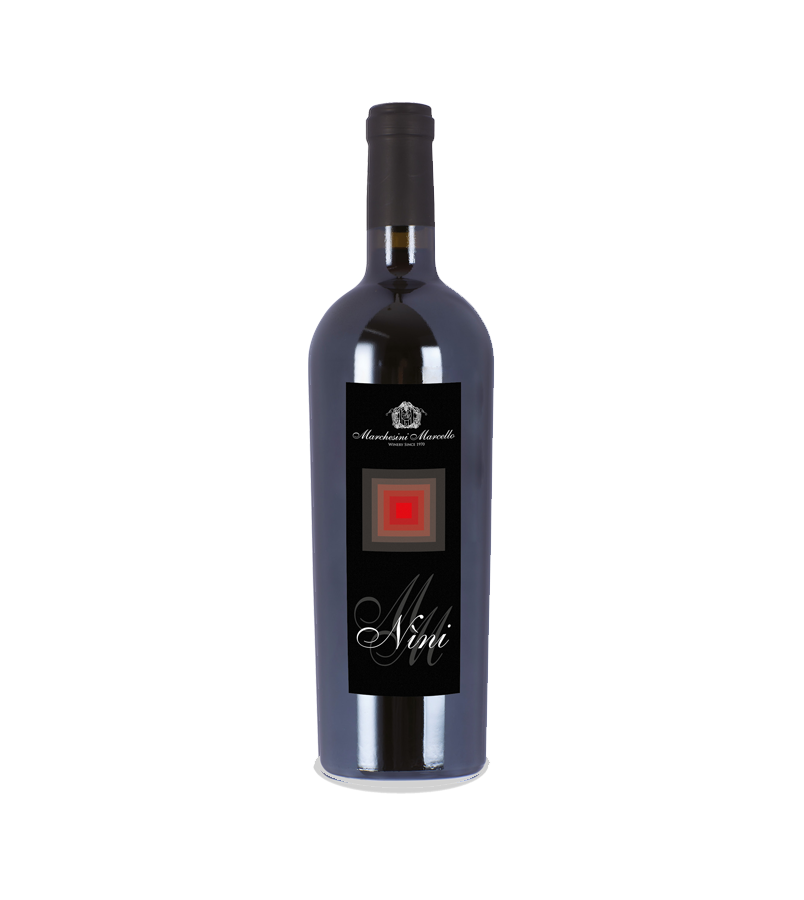 NÌNI IGT ROSSO VERONA 2017 – MARCHESINI MARCELLO
Organoleptic description: rosso tannico avvolgente e morbido
Colour: rosso rubino intenso
Profumo: un esplosione di spezie, pepe nero, cannella, noce moscata, con sentori di marasca sotto spirito, prugna e vaniglia
Sapore: pieno, vellutato, corposo e persistente
Vores kommentar
Nini er Sanfermoens lillebror/søster. Principperne for produktionen minder meget om den kendte Ripasso, som produceres i Valpolicella, ca. 25 km. væk. Er du til lidt mere end en alm. bordvin, så er Nini et godt bud på en vin at tilbyde gæster. Den giver anerkendelse, og set i forhold til prisen, er den absolut værd at tage med hjem.
Bardolino Chiaretto DOC Brut – L'Aurora
Organoleptic description: dry rose wine, fruity, fragrant and light, excellent very cold
Colour: light rosé
Bouquet: fruity with flowery notes
Taste: fresh, fragrant with notes of wild strawberry, blackcurrant, , white peach and rose
Alcohol: vol. 12.0%
Vores kommentar
Glæd dig til at nyde et køligt glas af denne prisvindende, mousserende vin.
Bardolino DOC Classico
Organoleptic description: dry red wine, fresh and light
Colour: red, light ruby
Bouquet: spicy with green pepper and cinnamon notes
Taste: soft, pleasant, with a young and elegant tannin
Alcohol: vol. 12.0%
Bardolino Chiaretto DOC Classico
Organoleptic description: dry rose wine, fruity, fragrant, excellent very cold
Colour: light rosé
Bouquet: fruity and flowery with notes of green apple, peach, banana, vanilla, rose and geranium
Taste: fresh, dry, mineral
Alcohol: vol. 12.5%
I Santi – IGT Bianco Veneto
Organoleptic description: dry white wine, light and delicate
Colour: very light straw-yellow
Bouquet: persistent, delicate and fine
Taste: dry, fresh with notes of banana, grapefruit and vanilla
Alcohol: vol. 12.5%
EriGiò Passito Bianco IGT
Organoleptic description: Deliberately not very sweet, for delicate palate
Colour: golden yellow
Bouquet: pervasive and etheric, with notes of orange blossom and vanilla
Taste: sweet, harmonic, warm and lingering.
Alcohol: 13.5% vol